Teach us to number our days aright, that we may gain a heart of wisdom. - Psalm 90:12
In home building and remodeling, people rely on one another. Their relationships are interdependent. When you create a Schedule what you're actually doing is arranging events between people. You're making your best effort to organize people and events before the first shovel full of dirt is turned.
This is not a clean, neat operation: There will be conflicts between Design and Build considerations. Individual differences between participants will create competing values and concerns. Dissimilar sensibilities impose varying standards for Quality Control. And when you're told by a Trade Contractor, "I'll be there on Monday morning," what does this really mean?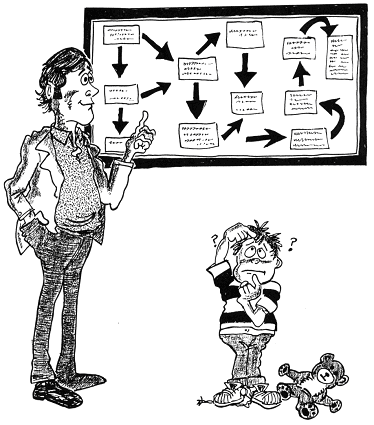 For a construction organization to remain effective, the Owner must maintain a dual fit between what goes on in the marketplace and what occurs on the jobsite. The Owner stands in the "middle" looking both directions. On one hand, there's the economic environment comprised of realtors, lenders, realtors, public agencies, manufacturers, suppliers, and trade contractors. On the other hand, there's the site criteria defined by Owner's life/home style, soil conditions, weather patterns, access to public utilities, and flow of work activities.
What this means is the Owner should recognize the natural linkages between off-site and on-site events. The point is to Design/Build with people in mind. The Owner formulates an "agenda" when doing a construction project taking into consideration the key events for management of a residential construction project. By defining what best fits your situation, the Owner is prepared for the uncertainties, and provides leadership to the entire organization of people.
Here are the key elements for management of a residential construction project, either new construction or a remodel project:
PROJECT PLANNING
DECISION MAKING PROCESS
DESIGN-BUILD MATRIX
BUILDING GREEN
CONTRACT DOCUMENTS
DRAWINGS
SPECIFICATIONS
PERMITS
BUDGET ESTIMATE
COST ANALYSIS
PURCHASING
TRADE CONTRACTORS
SUPPLIERS
SCHEDULING
SAFETY
QUALITY CONTROL
PUNCH LIST
The key elements for project management are presented in outline form appearing in a vertical column. These elements are presented in this format so you can visualize a "linear way" of modeling Project Management.
The following "Topic Diagram" presents the very same elements in a "systems way" as a horizontal flow chart. The elements are presented in this format to show interdependent relationships.
By placing the "linear way" adjacent to the "systems way," you have the opportunity to compare two different formats for the same information. You should be impressed by the interdependence of people and events.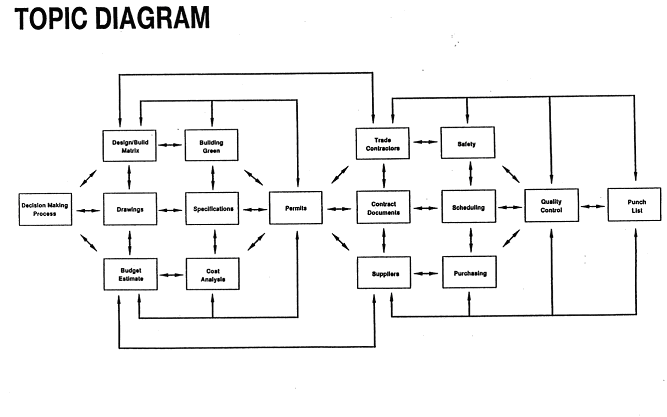 For Project Management, the "Topic Diagram" illustrates how events relate to one another. Relationships will exist that become more apparent when actually doing a construction project. For instance, the decision to implement a "custom" set of Drawings and Specifications directly impacts Design/Build considerations as well as your Budget. A "stock" set of Drawings and Specifications impacts these concerns much differently. Only you can realize specific differences for your project and make appropriate decisions based on whether you decide to work with an Architect or a Stock Plan Provider.
Likewise, as you negotiate Contract Documents with Trade Contractors and Suppliers, the terms of your Agreements directly impact project Schedule and the flow of materials and products to your jobsite. Subsequent Quality Control of workmanship and Safety will be based on the "pace" of activities, and how much time you are able to give to the details while still holding everyone accountable for their work. People make the difference!
The best way to describe the interaction of Design/Build events is to understand that both linear and system formats can be useful to you. Approach this endeavor like a painter: you don't start at the corner of the page and work down; you put on one layer and then another layer, step back, and put on another layer. Yes, there is a scientific aspect to residential construction utilizing existing technologies, but the Design/Build process is also an artistic endeavor. The challenge is to draw on your full potential to create a homestyle which matches your lifestyle.
The "Topic Diagram" provides the big picture, systems view of your project. But, to insure Quality Control during the course of construction, you'll also want to micro-manage the day-to-day relationships on your project.
Your ability to Schedule during course of construction is based on your competence at assigning priorities to various items of work to accomplish the desired end result in an orderly fashion. The "Generic Schedule" provided here is for a typical residential construction project developed over a six month period of time. It's useful as a general model, but should NOT be misconstrued as being applicable to every situation.
The "Generic Schedule" is presented provided to you as a DIALOG TOOL. You can share it with Trade Contractors and Suppliers during negotiations so every individual can comment on its accuracy. Adapt it to your situation! Most definitely, you'll want to fine-tune it by collaborating with the individuals who'll actually do the work.
The Bar Chart is probably the best known scheduling technique. For the purposes of scheduling major activities of a construction project, the chart indicates project sequence and scheduling of each major activity plotted on a weekly time scale. The chart has certain shortcomings which limit its usefulness but once aware of these inherent weaknesses, the Owner can rely on it as a beginning point for dialog with the people on your team.
A list of a Bar Chart's shortcomings would include:
* Failure to require a detailed analysis and further breakdown of major activities.
* Omission of indirect, support tasks such as tool maintenance or material purchases.
* Failure to communicate complete details of the project schedule which indicate activity interdependence.
* Failure to indicate adequately the consequences of scheduling changes.
* Failure to provide a suitable means for updating purposes.
From the standpoint of the Owner, the "Generic Schedule" is easy to visualize and understand its meaning. One possible solution to overcome the inadequacies of a Bar Chart is to note, during review of the Design/Build Matrix, pertinent information which would affect activity duration and changes. This means asking Trade Contractors and Suppliers for assistance in determining length of activity durations and possible obstacles to completion of their work.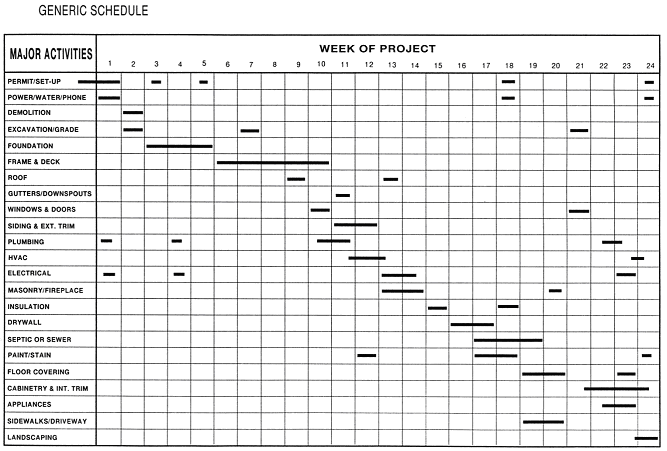 Another possible precaution is to understand that the Bar Chart is a "paper model" and, like all scheduling techniques, the results will not always meet one's expectations or the reality of working under field conditions. This approach helps one to realize that all ideal types have limitations and to accept difficulties; however, this does not mean we reject using a model as a reference.
Anticipating construction relationships and key events is central to successful scheduling of your project. For instance, site layout will involve placement of a portable toilet, job shack, and recycle/refuse bins. Simultaneously, you'll want to consider location of temporary electrical power pole, telephone cable, and water supply. Positioning of these items will require the Owner to consider current and future use. Site logistics is vital for an efficient and effective schedule.
Preparing for Trade Contractor's work and Supplier's support will also demand foresight. The idea of good coordination is to plan and organize for labor, material, and products before they are needed on site. An example would be ordering the exterior door package which includes choosing products and doing field measurements, transporting the package to the finish shop, and scheduling delivery of exterior doors for installation. Part of the framer's contract should include the setting of the exterior door package, and obviously the Owner's responsibility is to make arrangements for the package to be on site during the final week of the framing phase.
Weather conditions also become a concern for control of project schedule. Part of the Owner's evening routine will include watching the five-day weather forecast so one's expectations of the coming week's activities will match what the weather will accommodate. For instance, scheduling a concrete pour for sidewalks and driveway on a "dry" day guarantees a better finish. Why take a chance on inferior finish when there's only one chance to do the job correctly?
Remember: there is no replacement for critical thinking and analysis of your project to determine both standard and unique elements of your project. Planning, organizing, and controlling construction activities are the heart of project scheduling. Keep work activities in natural sequence and don't play hopscotch with your project's Schedule.
Here's a list of questions to consider when scheduling:
When will the building permit be issued for construction to begin?
Do a complete set of specifications exist to accompany the drawings?
Are house dimensions established on site?
Do front, side, and rear yard dimensions conform to setback requirements?
Did you ask utility companies to verify all utility locations?
Will electrician and plumber coordinate and install temporary services?
Is demolition or clearing required prior to excavation?
Does your landscape design include storm water control?
Is final grade established prior to excavation so elevations can be set?
Is a soil test required for a foundation design by a structural engineer?
Did you meet with excavation/foundation contractors to discuss site layout?
Will framing contractor order lumber package in a "phased" delivery?
Are exterior windows and doors ordered so they can be set during framing?
Who is responsible for arranging inspections by respective agencies?
Do mechanical systems require roof penetrations?
Did you schedule masonry or fireplace installation?
When will mechanical contractors meet on site with framing contractor?
How soon can the roof covering be installed?
When will the exterior decks, siding, and trim be installed?
Are there conflicts between plumbing/heating layout and structural elements?
Did you meet with electrician to discuss outlet, switch, and fixture layout?
Will the cabinet supplier visit the site to confirm all dimensions?
When will the millwork and interior door supplier visit site to confirm layout?
Prior to insulation installation will you do a video recording of rough-in?
When will septic or sewer installation be installed and inspected?
Is the exterior trim and siding ready for paint and/or stain?
Are floor coverings specified and ordered for installation?
When will weatherization package by insulation contractor be installed?
Are wall, ceiling, and floor insulation scheduled?
Is ample time allowed to hang, tape, finish, and seal drywall?
When will the painter complete interior wall coverings?
Will appliance supplier warehouse your order until you're ready for delivery?
Can the landscape be installed during trim package installation?
Are you ready to install sidewalks, patios, and driveway?
When will you take delivery of cabinets and interior trim package?
Are your punch list items completed?
37. Who will perform final cleaning of house?
Dialog and Collaboration is the key to creating a reliable schedule!